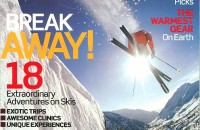 Two toddlers, 85 pounds of gear and 1,200 vertical feet add up to the perfect escape for one Colorado Family.
As we peer down the toe of a 3,000-foot, 45-degree avalanche chute in the rugged Elk Mountains, Quinn's eyes grow as wide as hubcaps. "I want to go down there," he says and pushes off into the pristine swath of snow. A reckless, inexperienced backcountry skier? To be sure. But cut him a little slack: Quinn's only 4 years old. So why is a preschooler crossing an avvy path in the first place? We're on a family hut trip near Aspen, Colo. Some might contend that the idea of a family hut trip itself is oxymoronic, if not simply moronic. "Hut trips are brutal on kids…honestly, we wouldn't take you," one guiding outfit told me. But facing a future of bouncy castles and story time at the library, my husband, Jeff, and I wanted to make a stand to keep true outdoor adventures a part of our life. We knew it was possible. When Quinn was 18 months old, we'd skied with another couple and their toddler to Walter's Hut near Vail. And despite the logistical issues (we were so smug about polishing off those heavy cans of Guinness we'd schlepped in until we realized we needed to carry back an equal weight in dirty diapers), it was an entirely doable adventure. We had the little people outnumbered, four to two. But with both couples having since procreated, the odds were now stacked against us. I phoned the other couple about the Aspen trip. "You're insane, my girlfriend said. "We'll be on the couch watching Teletubbies. The plan this time: Ski two and a half miles to the Markley Hut, a rustic log A-frame perched at 10,400 feet, just north of Aspen. Jeff will carry Aidan, our 25-pound 18-month-old, in a backpack carrier and haul the family's gear in a sled. I'll pull 38-pound Quinn in a kiddie sled. And, oh, did I mention I'm four months pregnant? We're not sure this is even physically possible, but we hire guides from Aspen Expeditions to get us to the hut without getting caught in an avalanche, help ferry our gear, lead us to the best skiing and keep the entire brood fed for three days and two nights. We wanted an adventure. This should fit the bill. Having postholed up to his chest on snowshoes during our Vail trip, Jeff, a snowboarder, has decided to rent a split-board backcountry setup this time (a snowboard that unhinges in the middle to form two skis). Unaccustomed to the free-heel sensation and two independently operating sliding devices, he loses his balance on the first slight incline and does the kind of pirouette only a six-foot-two, 215-pound snowboarder carrying a toddler can do, auguring them both into the snow. And we haven't even gotten out of sight of the parking lot. With Aidan screaming and Jeff stuck like an overturned turtle, Amos Whiting, our lead guide, extricates them, pulls out his bag of tools and performs the first of his numerous gear repairs in the field. I wonder how Amos, who is one of the nation's most renowned and highly credentialed mountain guides, would feel about backcountry diaper changes. After an hour slogging uphill, Quinn wants out of the sled. Amos dabs zinc oxide on our son's nose and gives him his poles. The grips tower a foot over his head. "You're a real mountain man now, says Amos. He likes kids. For now. The sled is delightfully lighter. In my delicate condition, I have to keep my heart rate low, which has been impossible on the uphills with Quinn in the sled. Amos stops to fix the waist belt on my sled so it doesn't dig into my hips, helps me buckle my boots to avoid blisters, then puts duct tape on the blisters I get anyway. It's good to have a guide. But what ultimately makes the difference between a good time in the woods and utter disaster is a dedicated intern named Greg Walters. Amos enlisted Greg to carry virtually all our gear—and his—plus enough food to keep the Donner party fat and happy all winter. We just have to tow the kids. The 1,200-vertical-foot trip takes five hours, including a trailside lunch of summer sausage, bagels and lox, one dunk in thriver (Quinn), one diaper change (Aidan) and a modicum of whining (everybody). It would have taken Amos roughly an hour to make the trip solo. Unpacking at the Markley hut, we discover we've left behind one of my slippers and Jeff's bottle of scotch. However, these oversights are an improvement from last time: On the Vail trip, we'd forgotten wipes—a monumental strategic snafu when you've got a non-potty-trained toddler. Inside the hut, we survey potential hazards: a steep set of stairs without guardrails. Bad. A sizzling-hot potbellied stove. Very bad. We create a barrier of benches around the stove and vigilantly patrol the stairs. For dinner, Greg and Amos whip up a chicken stir-fry—and then clean it up afterwards. This is easier than being at home. Later, Jeff and Quinn sit on the deck stargazing, the snow painted silver in the moonlight and the smell of wood smoke in the air. "I need to poop, announces Quinn. But not in the outhouse. "It's stinky, Dad. So with a shovel slung over his shoulder, Jeff leads Quinn down the trail to dig a hole. It's important to keep expectations low. That's what I'd learned on the Vail trip, which lasted three days and during which I logged one measly 500-foot run. "It's not so much about the skiing as the getting there and being there, Jeff had rationalized. Still, this time we spent the weekend before the trip in Aspen, in part to acclimatize to the altitude, but more to exorcise our downhill ya-yas with the help of two days of chairlift-assisted skiing and the resort's childcare program. Once in the backcountry, Jeff and I had been planning to trade off watching the kids and ski touring with Amos. But then Greg volunteers to babysit so we can ski together. Possessed of an extensive knowledge of snow crystals, hoar depths and other elements of avalanche safety, Greg seems qualified to watch our children. So, fueled by Frisbee-sized blueberry pancakes, we skin over Express Creek, past a beaver dam and up Green Mountain, following Amos's tracks and trying to emulate his practiced kick turns. At the top, some three and a half hours later, I click into my alpine touring setup and Jeff reassembles his split board. We set off down a north-facing ridge and into a broad basin speckled with fir trees. As we get used to the wonky feel of our rented alpine touring gear, Jeff and I both make unplanned pitstops in treewells. But before long, we've found a rhythm through the spongy untracked snow. As we ski back to the hut, the door opens, and Aidan, his face beaming, cries "Mama, Mama! It's the highlight of the day. Inside, Quinn is strutting around in Amos's size 10 slippers, banging on pots and pans with wooden spoons. Greg's our new hero. But things go south from there. Putting the kids to bed is like playing Whack-a-Mole. As soon as one retires, the other jumps up and races madly around the hut. I retrieve the loose child, soothe, sing, rub his back, then pop!—up goes the other one. The kids are wired and my head is pounding from the altitude. Perhaps this whole adventure was ill-conceived after all. I give up and let the wild things have their rumpus. (Later, on the drive home, we would make an illuminating discovery. Greg had employed the unorthodox technique of Babysitting by Dextrose—plying the kids with Starburst candies all day. His hero status dips slightly.) Bleary-eyed on our final day, we tuck into a breakfast of omelettes, bacon and oatmeal. Coming down from his sugar high, Quinn sobs because I won't let him eat brown sugar by the spoonful. We debate whether to attempt a short tour before heading home. The ski out might easily turn into another five-hour marathon. The kids are melting down like Chernobyl. But it's Jeff's birthday and, more important, it snowed overnight. The pine-dotted slopes of Green Mountain beckon through the hut's giant picture windows. We decide to go for it. Leaving our pint-sized junkies with their sugar-pushing babysitter, we head out. The sound of Aidan's crying is muffled by the veil of fat flakes swirling in the air and last night's accumulation, which hangs heavy on the surrounding branches. We move quickly uphill, our kick turns looking slightly less pathetic than those of the day before. After an hour of hiking, we peel off our climbing skins and head down a north-facing glade covered in a carpet of soft new snow. We porpoise through the fresh cream and dart through the pines, forgetting, momentarily, that we even have kids at all. The gamble pays off. We pack up and take off down the logging road. To our surprise, Quinn skis the whole way—a positive effect of the Starburst? I can tow Aidan in the sled and Jeff can snowboard down with a backpack. We reach the trailhead in a remarkable hour and a half. As we cross the last bridge, the clouds part, as if on cue. The gurgling creek twinkles in the sunlight. I'm feeling proud of our family's backcountry adventure. Then, as I round the final bend in the trail, Aidan starts howling from the sled. The sun is in his eyes.
Details
These outfitters will help you forge your own hut expedition.
Aspen Expeditions White River National Forest, Colo. Lowdown
With two of the nation's 27 International Federation of Mountain Guides Association (IFMGA) guides on hand, Aspen Expeditions is a much safer bet than dragging junior into the wild on your own. The Markley Hut, part of the Alfred A. Braun system, requires a moderate 2.5-mile ski in, with a 1,200-vertical-foot rise. The hut's 10,400-foot elevation is lower than most huts, but it's wise to acclimatize in Aspen first.
The terrain
The Braun huts are located in known avalanche terrain, but the skiing can be spectacular, with chutes, bowls and steep glades.
Family-friendly touch
Having recently adopted a 2-year-old Nepalese girl, owner Dick Jackson knows the ropes.
Cost
A family of four is $650 per person for three days and two nights. Includes guide, meals, hut fees and avy gear.
Contact
970-925-7625; aspenexpeditions.com
High Lonesome Hut Winter Park, Colo. Lowdown
Ideal for first-time hut trippers, the High Lonesome Hut near Winter Park has flush toilets and hot showers. The hut sits at a manageable 9,600 feet and the ski in is a doable 2.5 miles with a 300-foot elevation gain. Owner Andy Miller will haul your stuff in for $80 each way.
The terrain
Miller has cut a 300-foot glade above the hut for a mellow, easy-access run. Or skin two hours to the ridgetop and ski 1,000 vertical feet of steeps through a lodgepole pine forest.
Family-friendly touch
Miller is a former childcare-center director and, for a price, he'll babysit while you ski.
Cost
$30 per adult, per night; $10 for kids; $250 for entire hut
Contact
970-726-4099; lonesomehut.com
Sun Valley Trekking Sun Valley, Idaho Lowdown
Let Sun Valley Trekking ferry you in, lead you to the best skiing and keep you fed at one of their Boulder Yurts, at 7,120 feet in Idaho's Sawtooth and Smokey mountains. (It's only 1.3 miles and 500 vertical feet in.) The company also arranges gourmet dinners such as honey citrus salmon or pork tenderloin brochettes with peanut sauce. After dinner, simmer in the wood-fired sauna.
Terrain
Plunge down the 25-degree open faces off Ice Cream Cone peak.
Family-friendly touch
For the little ones, the yurts are stocked with games and crayons as well as sleds for schussing on mild slopes just outside the door.
Cost
A family of four is $150 per person, per day, with guides and basic meals. The gourmet dinner costs $80 a person.
Contact
208-788-1966; svtrek.com This article first appeared in Ski Magazine in January 2006