Any mom will tell you it's hell just mobilizing a trip to the grocery store when you have kids. But camping with a baby? How hard could it be?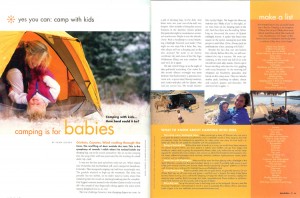 Crickets. Coyotes. Wind rustling through the trees. The snuffling of deer outside the tent. This is the symphony of sounds I relish when I'm tucked inside my sleeping bag, out in the woods somewhere. But on my last camping trip, the song of the wild was punctuated by the howling of a small child. To be more precise, my child.
It was not the first such adventure with our son. When Quinn was 10 months old, my husband, Jeff, and I had camped on top of Steamboat, Colorado. That inaugural camping trip had been surprisingly easy. The gondola whisked us high on the mountain. The baby was portable but not mobile, so we didn't need to worry about him wandering into the woods or pitching headlong into the campfire. Our biggest concern seemed to be whether Quinn would ever nod off–the sound of tiny fingernails raking against the tent's nylon ripstop delighted him to no end.
The true challenge, however, was changing diapers in a tent…in a pile of sleeping bags…in the dark. And these were not your run-of-the-mill wet diapers. After months of doing his serious business in the daytime, Quinn picked this particular night to recommence nocturnal number-two. Maybe it was the altitude. (Note: pack a headlamp to avoid balancing a flashlight between your teeth.) That night no one slept like a baby. But, hey, who sleeps well on a Thermarest in the dirt, anyway? We woke to an electric cornflower sky and views of the Flat Tops wilderness filling our tent window. We said we'd do it again.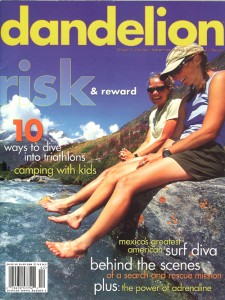 We did, which brings us to the night of that god-awful screeching. Our vision for this second alfresco overnight was more Bedouin than backcountry: A spacious two-room tent, a queen-sized blowup mattress, a pack-and-play crib for Quinn, who had just turned two. We would slumber like royalty! Right. We forgot the blow-up (see "make a list" below), so we were back on the Thermarests in the dirt. And then there was the wailing. Before long, we discovered the source of Quinn's midnight misery: A spider had bitten him square on the eyelid, causing his poor little peeper to swell shut. (Note: Always pack Benadryl when camping with kids.)
Despite the fact that our son looked like a Rocky Balboa Mini-Me, we still considered the trip a success. We were car-camping, so the truck was full of icy-cold micro-brews and salty snacks. Quinn spent hours chucking rocks into the river, giggling with every ker-plunk. In the morning, Jeff whipped up blueberry pancakes and bacon on the Coleman stove. Then we hiked a nearby peak, lunching on salami, cheese and crackers, grapes, and chocolate. We said we'd do it again.
What to know about camping with kids:
Car-camp now; backpack later: Unless you've got a team of sherpas who can carry your gear, the baby's assorted paraphernalia, and a weekend's-worth of dirty nappies, start with car camping. Save the backpacking expedition for when junior can carry his own load—or better yet, when he can spend the weekend with the grandparents.
Bring a first-aid kit: Without the stash of meds on our trip, we would have been racing to the nearest hospital. When you least expect it, babies and toddlers can go from happy and healthy to coughing and crabby. Be prepared for fevers, colds, cuts, and bruises, as well as camping-specific ailments like slivers, blisters, and poison ivy rashes. Stock the first-aid kit with tweezers, alcohol wipes, band-aids, instant hand sanitizer, antibiotic ointment, hydrocortisone cream, baby Tylenol and Benadryl.
Fun with flashlights: What could be more fun than playing with a flashlight in the dark? (Matches, maybe, but that gets Smokey's shorts in a twist.) A portable light source is part safety, part security blanket, part monster slayer. And for projecting "magical" patterns on the tent wall, Coleman has a kid-specific flashlight (coolflashlights.com). Avoid tussles by issuing one to each child.
Dress like a New Yorker: You're in the woods. It's dirty. Forget the lights and whites, and pack dark clothing. (Although outfitting Bambi-sized toddlers in camo during deer season is not advised.) And with tots of any age, bring lots of baby wipes for grimy hands and faces—dishes even.
Keep them toasty: Even in summer, when the sun goes down, so goes the mercury. On our Winter Park trip, we all wore hats and gloves, and that was in August. For baby, bring fleece booties, fleece bunting and a soft hat for sleeping. Or, keep the whole clan warm by zipping two sleeping bags together (Kelty has bags that mate; kelty.com). Dress toddlers in synthetics, which wick moisture and dry quickly, and bring lots of layers.
Do a dry run: At home, set up the tent in the living room or backyard. The kids will get used to the camping idea; you will learn how to make a shelter out of polyester, poles, and string. Choose a tent like Mountain Hardwear's Hammerhead 3, which is easy to assemble, fits a family of four, and stows loads of gear in its two vestibules (mountainhardwear.com).
Make a list: A time-tested key to any successful family trip is The List. Camping is no exception. Without The List, you'll likely drive away without something critical. Like marshmallows. Assuming you can figure out the basics (like underpants and food), here's a rundown of key items not to forget:
Basic Camping Checklist
Baby's lovey blanket
Toddler's favorite bear
A few toys and books
Whistle (kids can blow them if they get lost)
Baby wipes
Child's potty
Fully loaded Swiss Army knife
Waterproof matches
Toilet paper
Headlamps and flashlights (and batteries
Camera (and film)
Tent, poles, stakes
Tarp and tarp poles
Sleeping bags
Pillows (why not?)
Thermarests or blow-up mattress
Folding camp chairs
Lantern
Hiking boots (broken-in)
Sandals
Hats and gloves
Rain gear
Water bottles
Collapsible water containers
First aid kit (see above)
Bug repellent
Sunglasses
Sunscreen
Binoculars
Day pack
Maps of hiking trails
Ice box
Corkscrew and bottle opener
Stove (and fuel)
Pots and pans
Plates, bowls, cups
Silverware
Coffee press
Hand towel
Sponges
Dish soap
Aluminum foil
Trash bags and Zip-loc bags
This article first appeared in Dandelion Magazine in June 2004.